Generate Online Revenue with Our Pay Per Click Management Company in Mumbai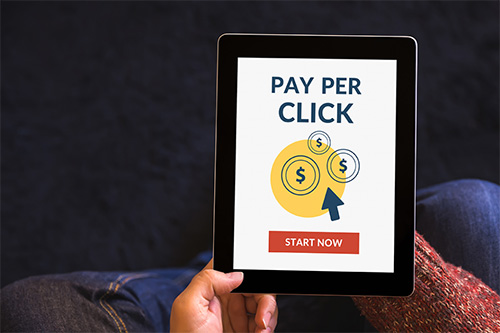 Have you seen the sponsored ads pasted on the top of Google's first page? These are Google Adwords PPC generating a website's revenue. So, if you are wondering how to secure similar payments, then get in touch with our Pay Per Click Management Company in Mumbai.
What is the benefit of Pay Per Click?
Generates valuable revenue for websites.
Is Identified by Google as a trusted website.
An Efficient Marketing Strategy.
Fast and Measurable Results.
Reach your target audience.
PPC is one of the most effective ways to bring organic traffic to your site and we, at 9Dzine, look to ponder on similar specifics with our experts.
How can our Pay Per Click Management Agency in Mumbai help you?
9Dzine looks to adopt a procedural stepwise approach of PPC. Here is our modus operandi,
Make an in-detail study of your target customers and your company's requirements.
Enlist your ad in Google's Adwords.
Make it live.
Receive revenue once people start clicking.
Maintain the ads with proper time to time updates.
So, come and convey your requirements to our team of professionals. We promise to become the Best Invitation Card Design Agency in Mumbai you could ever find.
What more will you get?
In addition to the above steps, we bring to you a set of facts that will define the effectiveness of Pay Per Click with a broader perspective.
38% of sites embracing Pay Per Click have reported gaining 46% organic traffic in a period of two months.
As of now, Google Adwords is the most availed advertisement zone by any online venture.
Google's latest algorithm updates identify PPC as an effective SEO tool.
So, by availing PPC services from the Best Pay Per Click Management Agency in Mumbai like us, we ensure your site reaches the zenith of Google Rankings and at the same time, generate substantial revenue from third party clicks on your Google Adwords.
Get the best results with us at 9Dzine and witness your online venture see the face of profit in no time.